Never think about your hot water needs again:
A & L Heating & Cooling has studied a range of products for energy efficient water heating in both residential and commercial applications and resolved that the Rinnai range of Tankless Water Heating systems provide the best value for money in installation and running costs. Call today for more information on these cutting edge products which are supported by government grants for energy efficient installations.
Innovative technology provides an endless supply of hot water whenever and wherever it's needed – even for simultaneous uses at multiple fixtures. Showers and baths? Absolutely. Laundry and dishes? No problem. Prioritizing activities and scheduling hot water use is a thing of the past.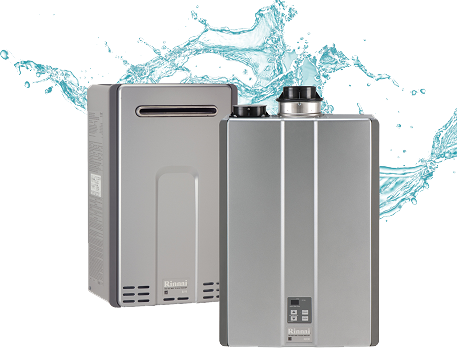 Save money, splurge on performance.
Designed for efficiency: Rinnai's tankless technology features copper heat exchangers to provide maximum efficiency and uses up to 40 percent less energy* than a traditional tank.
Save energy: By operating only when hot water is needed, and no storage tank to heat and reheat water, our tankless technology helps save on energy and utility costs. The use of an electronic ignition means no standing pilot light that constantly uses energy.
A smart investment: Increase your home's value with premium technology, increased energy efficiency, an improved Home Energy Rating System (HERS) Index Score and optimized LEED certification. Available energy efficiency rebates and tax credits offer the opportunity to help make your purchases more affordable.
Multiple sizes: Rinnai gives you options to right-size your installation and customize your efficiency.
Replace parts, not systems: Every part of a Rinnai Tankless Water Heater is replaceable. Components can be easily exchanged, if needed, versus replacing the entire system.